Curriculum Overview
All children have the right to a broad, balanced and relevant education that provides continuity, progression and allows them to flourish in areas of natural talent whilst developing the learning skills that will serve them throughout their lives.
The work at Leechpool will be planned to deliver national curriculum and Early Years Foundation Stage requirements in ways that inspire, motivate and meet the social and emotional needs of our children and take individual differences into account.
Leechpool Primary follows the National Curriculum. If you want to find out more about your child's year group and an outline of each subject's outline and objectives from the National Curriculum, please do have a look at our Home/School Booklets and curriculum content.
We also have a clear Collective Worship and RE policy across the school that can be found on this page. Families may withdraw their children from RE lessons if they wish but this has to be discussed with the Headteacher before this can take place.
To find out more about the curriculum at Leechpool, please read the Curriculum Newsletter.
---
Please click here for full details of the National Curriculum and how it is enacted here at Leechpool Primary School. Click 'Leechpool Curriculum Overview 2021-22' below to see the topics studied in history, geography and science across this academic year in each year group.
For the Curriculum Policy - Autumn 2020, please click here.
---
Leechpool Curriculum Overview 2021-22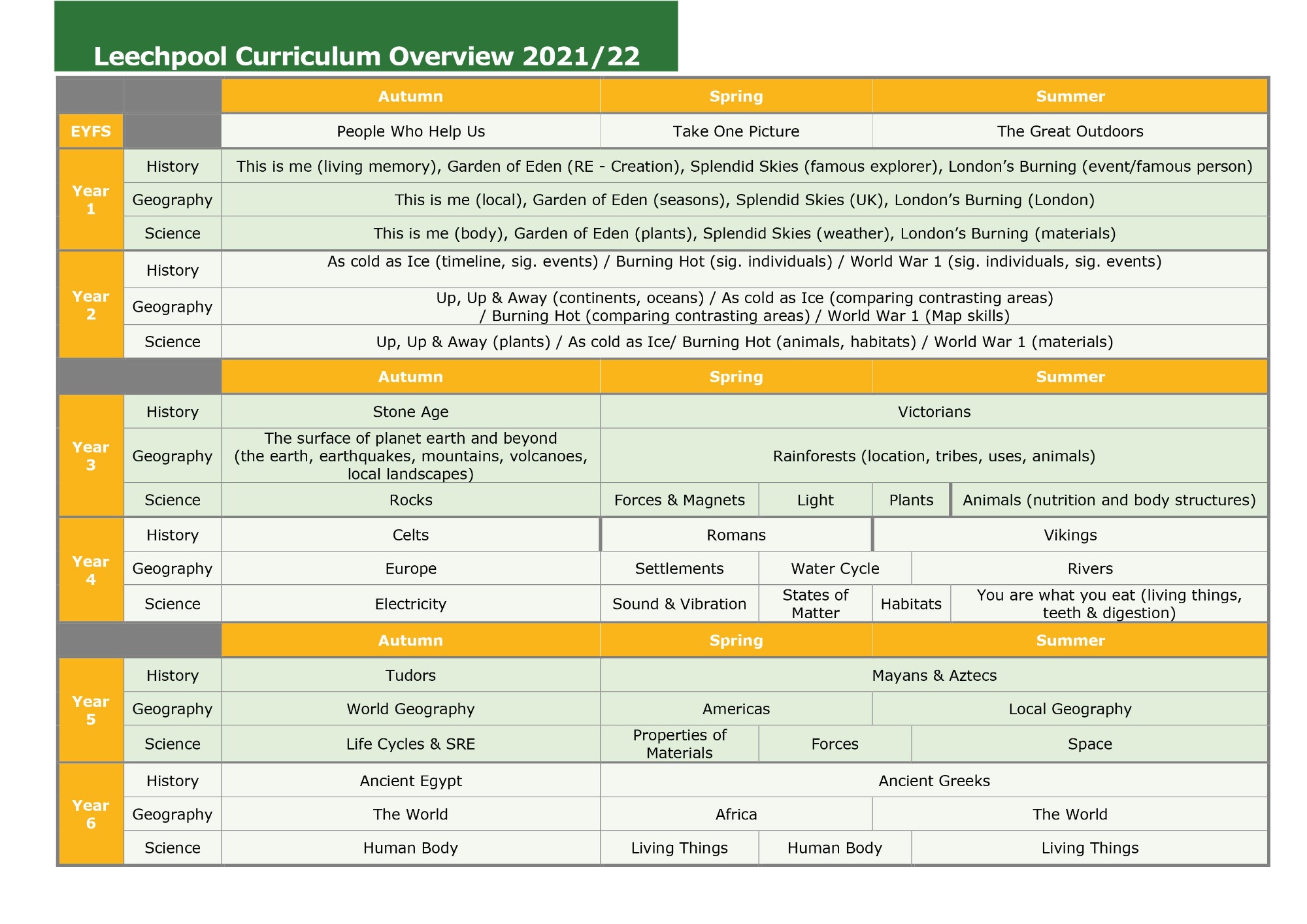 Our Curriculum Display
Our curriculum display is a feature in our reception area at Leechpool. It highlights three important aspects of our curriculum:
the subjects our pupils are taught in our broad and balanced curriculum
the subject overview for the current academic year
a snapshot of our concepts, knowledge and skills our pupils learn and practise to remember
In the concepts, knowledge and skills snapshot section, three concepts are displayed and this highlights pictorially how these are woven through each year group in our curriculum. The concepts displayed here are regularly updated to give parents a flavour of what is taught, learnt, and remembered at Leechpool Primary School.
Intent
At Leechpool Primary School the curriculum is designed to:
recognise and build on children's prior learning
provide exciting first hand experiences
recognise that every child is different and may learn best in different ways
encourage the children to develop interpersonal skills, build resilience, become resourceful and reflective thinkers and meet challenges without the fear of making mistakes
At Leechpool, 'Every Child Really Does Matter' and our curriculum aims to 'Breath Life Into Learning To Be The Best We Can Be'.
The children's learning is underpinned by basic skills knowledge and understanding of concepts and values and is supported by the school rule 'Respect' (chosen by the children) and our 6Rs: Relationships, Resilience, Resourcefulness, Risk Taking, Reflectiveness and Responsibility. We are constantly enhancing the children's education with experiences that enable them to be happy and seek out and investigate new challenges. Our children have a constant interaction with the wider world, with regular visitors coming into school and journeys out into the local and wider environment. Music and the arts are central to our children's well-being and development and play a large part in the life of the school. This is reflected in our central music room and our vibrant bright learning environment.
We celebrate traditions and festivals in a local national and international context whether they be religious, cultural or sporting. We take up every opportunity to give our children experiences outside school and this adds to the rich learning the children develop.
Our children leave Leechpool with confidence and a sense of having belonged to a supportive and varied community made up of their peers, teachers, teaching assistants, lunchtime supervisors, office staff, premises managers and parents. The interaction they have with others whilst at Leechpool gives them the skills and vision to succeed as lifelong learners.
Implementation
Leechpool is committed to providing a broad and varied curriculum rooted in the exciting contexts of our Learning Journeys. Each term's work is driven by a theme that allows the learning to be experienced in real or imaginary contexts. From Early Years to Year 6 the work is planned round a two year cycle of learning journeys that have a balance of History, Geography, Science and Literacy themes. The KS1 and 2 programmes of study are carefully planned within each learning journey to ensure that both years of the cycle provide the coverage and progression required. Maths, RE, Technology and computing either supplement or compliment the thematic learning, ensuring that their own programmes of study are fully covered.
Learning Research
The school is always looking for new approaches and strategies to improve the learning experience for our children. Over the years this has been influenced by a knowledge and skills based curriculum, TT Education's Writing Process - Path to Success, the use of clear learning objectives with 'process and non-process' success criteria and regular self-evaluation, the use of RAP (reflect and progress) feedback and response time, and the 'Thinking Curriculum' as developed by educationalists such as Carol McGuiness.
Our curriculum aims to develop clear and effective thinking skills that can be applied across the curriculum and is encouraged by well-focused questioning, that supports children's progress and challenges those of higher ability.
Subject Leaders
At Leechpool we have a developed a subject leadership system that empowers staff to oversee, develop, monitor and evaluate the teaching and learning within their subject. The role is highly valued and staff are given leadership time either on a regular basis or for particular projects. Working parties form an important part of our Professional Development Meetings and subject leaders benefit from the collaboration of all staff. CPD opportunities are taken up whenever possible to allow subject leaders across the curriculum to learn about the latest thinking in their area and share it with the rest of the staff.
Early Years Outcomes
In the Early Years we provide a range of activities and opportunities to broaden the children's knowledge across the 17 areas of the curriculum and at the end of the year we assess the children against these. The curriculum provides children with the opportunity to explore, investigate and consolidate their learning and the adults support the children by observing, facilitating and moving children on with their individual next steps of learning. The children's development is supported by a rich learning environment both inside the classroom and in the outside play area with road layouts, play huts, balance bikes, sand and water areas, carpenters bench and many other pieces of equipment provided to enrich the children's play to learn experience.
Tracking pupils progress through the curriculum
Children's progress in reading, writing, and maths, is tracked through a variety of methods. Ongoing assessments record when children are working towards the various expectations and when they have shown they are secure in them. These are recorded in the front of the children's books and within the school's tracking system. Children's progress through the programmes of study is formalised twice a term and is supported by twice-termly snapshot tests or quizzes. In maths, diagnostic spreadsheets are used to flag up individual or group areas of weakness in arithmetic.
The school's comprehensive assessment records, together with work in their books, indicate that all groups of pupils typically make at least the progress the school expects through each year... The school's own assessment information closely matches the results of national tests. Ofsted July 2017
Going Forward
We are constantly evaluating the effectiveness of our curriculum with each term's learning journey being reviewed to identify areas where it could be improved. As a school we are evolving our teaching and learning towards an even more thinking led curriculum which will use a wide range of learning journey experiences to develop skills that children can use not only in their school career but also throughout their lives.
The learning teams write detailed medium plans which highlight how and when a subject is taught. These are reviewed termly to reflect the needs and interests of the children we teach. Termly newsletters are shared with families and are now added to the school website.
If you require any further information about the curriculum, please contact Robert Cooper Assistant Headteacher - Curriculum and Achievement.